Upcoming Events
Tasting Room and
Archive Club Events
April 27th- Live Music Friday featuring Tessa Karrys. 6-9pm
May 4th-Live Music Friday featuring PK Gregory. 6-9pm
May 11th-Live Music Friday featuring Mike Morris. 6-9pm
May 12th- Second Saturday Art Walk! Meet the artist, Erica Fareio and enjoy live music by Jason Kevin. 6-9pm
May 18th- Live Music Friday featuring Sarah Chapman. 6-9pm
May 19th- Tour de Stronghold winery tour, lunch, and blending competiton. For tickets, contact our club manager Sedona.
May 25th- Live Music Friday featuring Hank Erwin. 6-9pm
June 1st- Live Music Friday featuring Dan Vega. 6-9pm
Offsite Events
Verde Valley Wine Festival
May 12th
We're back! The Verde Valley Wine Festival will return to downtown Clarkdale in the Clarkdale Town Complex, 39 North 9th Street on Saturday, May 12, 2018, beginning at 11am for VIP Early Admission and Noon for General Admission. This is Northern Arizona's premier Wine and Culinary festival of the year, presented by Four Eight Wineworks featuring wine and beer tastings, food, live music and family fun.
The event highlights the community of Clarkdale and the Verde Valley at large with the goal of offering the finest Arizona wineries, breweries, spirits and restaurants committed to creating homegrown products for locals and visitors to enjoy. VIP experiences, guest viticulture lecturers, live music and fun will enhance the festival experience as well.
http://verdevalleywinefestival.com/
Willcox Wine Festival
May 19-20
11am-5pm –Rated as one of the best wine festivals in North America by Fodors Travel, the 9th annual Willcox Wine Country Spring Festival features 16 Willcox Arizona Farm Wineries, top music acts from Phoenix and Tucson, a Street Bistro featuring Dante's Fire in Tucson, over 45 local artists, crafts, and locally grown pistachios, pecans and other local produce and specialty foods.
PLAN YOUR TRIP AT
http://www.willcoxwinecountry.org
Tasting tickets are available at the gate, however, purchasing on Eventbrite has a discount, refund policy and an express check-in for Eventbrite ticket holders! Designated drivers, underage family and non-drinkers are admitted FREE.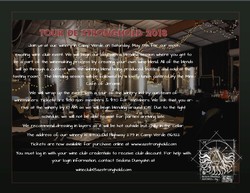 The Tour de Stronghold event is currently only open to wine club members. If you are a member, please log in with your credentials to purchase tickets. Email Sedona if you don't know your login. sedona@azstronghold.com