Tour de Stronghold Member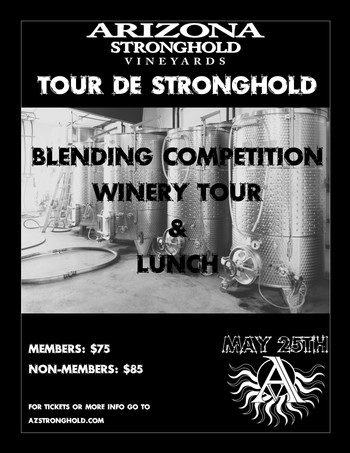 Join us Saturday, May 25th at our production facility in Camp Verde for our annual Tour de Stronghold event. The event starts off with a blending session where members are partnered up to create their own wine blends. The judge's panel will decide on the winning blend which will be bottled and sold through the wine club as well as in the tasting room! The blending contest is followed by a lunch catered by Mine Cafe and finally a winery tour where you get to learn all about the winemaking process. There are limited seats available for this event so make sure you get your tickets ASAP!
Tickets are $75 with your club discount and tax. Each ticket includes the blending contest, catered lunch, wine, and winery tour.We ask that you arrive at the winery by 10 AM as we will begin blending around 10:15. Due to the tight schedule, we will not be able to wait for parties arriving late. We also recommend dressing in layers as it will be hot outside but chilly in the cellar.
Where: 4700 Old Highway 279 in Camp Verde 86322
When: Saturday May 25th 2019 at 10am
We hope to see you there!