Kayaking 8:15 AM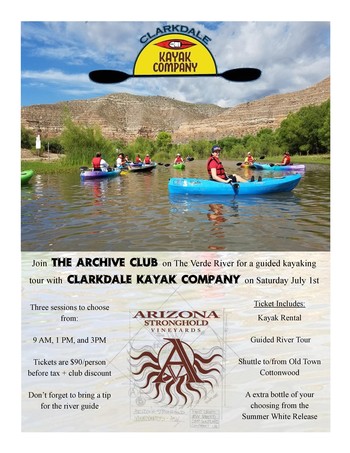 Our long hot summers here in Arizona make it a little rough for us to ship wine. While this accounts for the long break between second and third quarter club releases, it does make room for Summer White Release. This is a great way to start stocking white wines for pool parties and other fun summer activities.
2017 Summer White Release includes the following:
2015 Diya
2016 Dragoon Vineyard Chenin Blanc
2016 Bruzzi Vineyard Vidal Blanc
2016 Bonita Springs Vineyard Chardonnay Pick 2

This release will be available in the TASTING ROOM ONLY from July 1st through August 31st.
Summer White Release is completely OPTIONAL, although we highly recommend taking it!
If you would like the release, all you have to do is go pick it up at the Tasting Room-no reservations necessary.
You'll even receive an additional 5% off the wines on top of your regular wine club discount!
We've incorporated a little extra fun in the sun by partnering up with Clarkdale Kayak Company for a kayaking adventure on the Verde River in conjunction with our Summer White Release Party July 1st at the tasting room. The Summer White Release Party will feature sampling of the white wines included in the release as well as live music. If you would like to participate in the kayaking portion of the event, tickets are $90/person and include transportation to and from Old Town to the river, the guided kayaking trip, and an extra bottle of your choosing from the Summer White Release Wines. Due to river restrictions, there are limited tickets available for kayaking so get your tickets before everyone else!